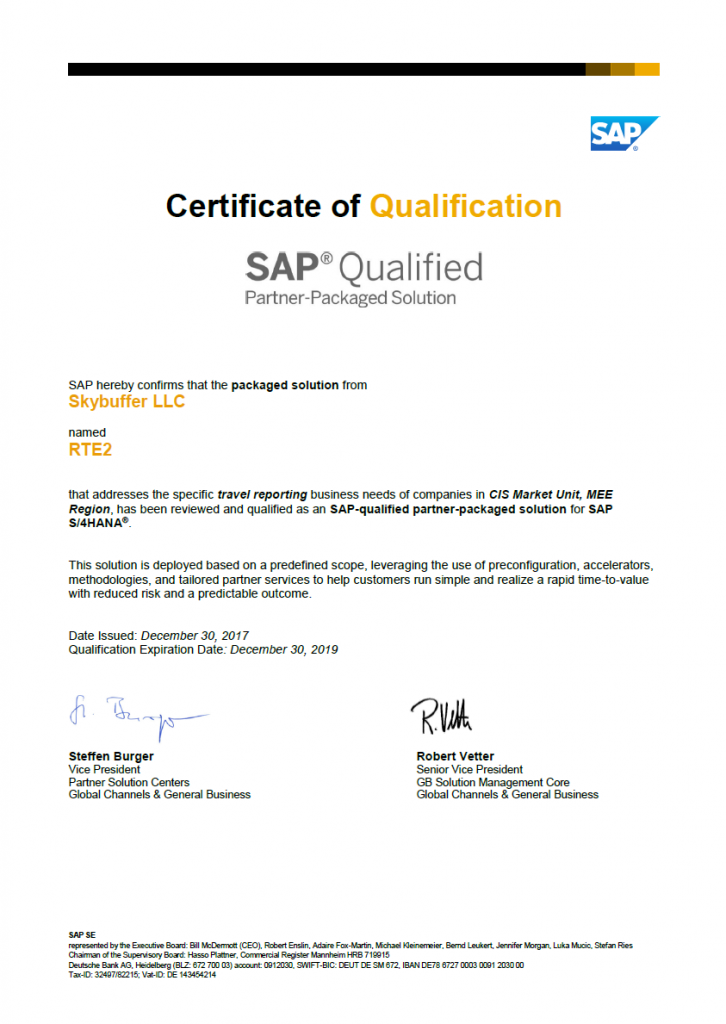 Pricing and Packaging
APPLICATION ONLY

€4,999 / per company code

Installation Guide
Implementation Guide
Per Company Code Licensing Model
-
-
Maintenance Support (from the first day) *

FIXED PRICE

€14,999 / per company code

Installation Guide
Implementation Guide
Per Company Code Licensing Model
Fixed Price Installation Services (included)
Fixed Price Implementation Services (included)
Maintenance Support (after Go Live) *
* Maintenance Support is 20% of licenses package amount (billed annually).
Key Benefits
/SKYBFR/RTE2 ECO EXPENSES is SAP Qualified Partner-Packaged Skybuffer Solution based on SAP Travel & Expenses functionality.
A socially and environmentally responsible solution which analyzes business trips KPIs in SAP environment thus adjusting business costs and revenues.
RTE2 with additional dimensions for specific reporting controls travel expenses per business unit, mileage covered per trip, CO2 Emission per vehicle type/employee/subsidiary, etc.
Upgraded SAP Fiori interface allows mobile data inputting.
Google Cloud Platform integration collects credible data for ecological management system audit and contributes to the company' sustainability.
Key Capabilities
Analytics solution provides varied queries based on travel expenses data application in source systems.
Extended version of standard SAP My Travel & Expenses Fiori application is efficiently used for credible data gathering for the purposes of ISO 14001 ecological management system audit.
and many more.
View SAP Fiori Travel Expenses Application Capabilities
Ecological record of staff business travel and expenses integrated with Google Cloud Platform
View SAP BI Travel Expenses Financial and Sustainability Reporting Capabilities
Analysis of travel expenses financial KPIs and environmental impact in SAP environment