SKYBUFFER – YOUR SAP SERVICE AND SOFTWARE PARTNER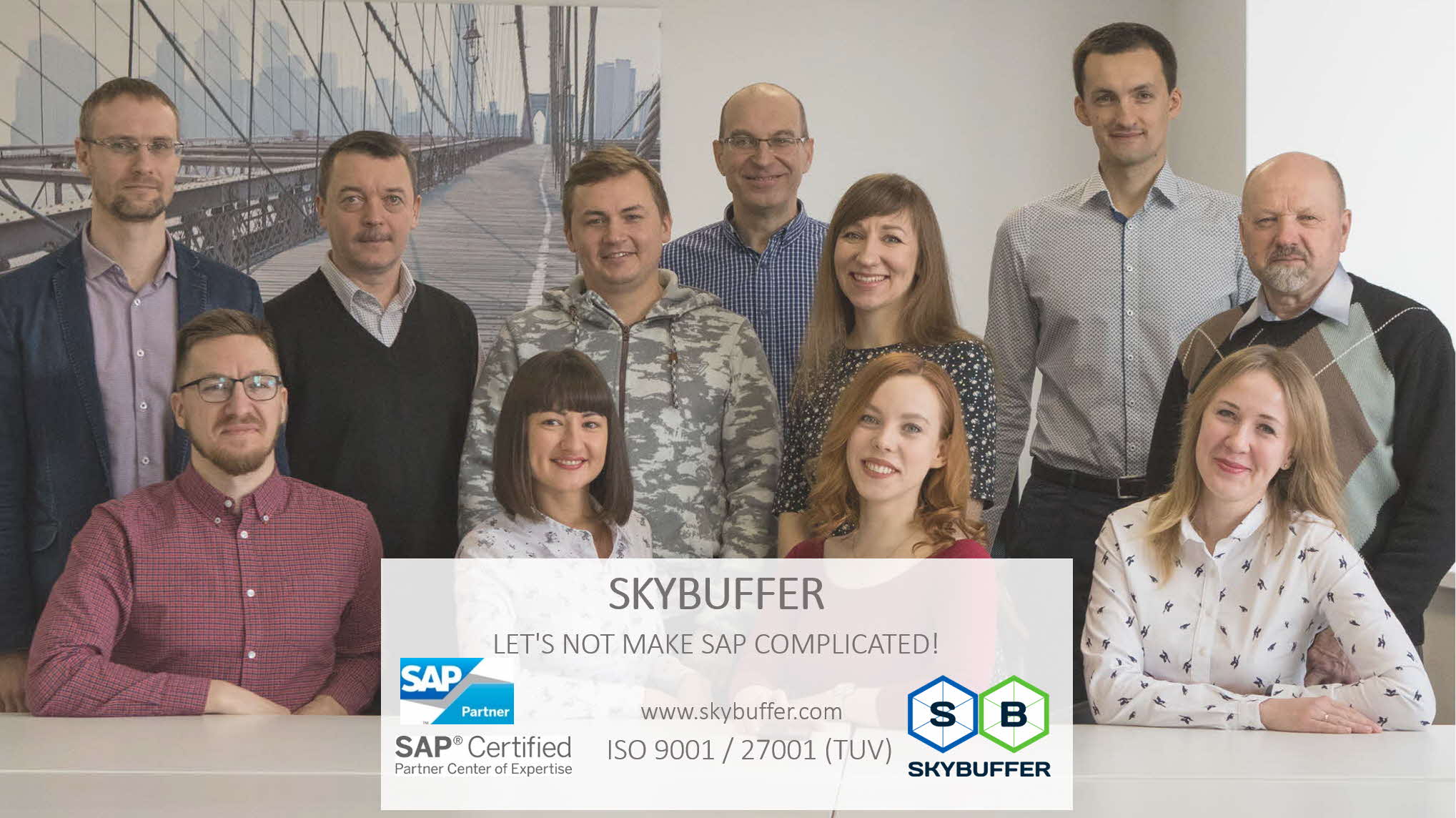 Our Background
SKYBUFFER is an international SAP implementation and development company founded in 2013.
We are SAP Partner Center of Expertise certified by TÜV THÜRINGEN (ISO 9001:2015 and ISO 27001:2013).
We are proud of our statuses of SAP PE Sell, Service and Build Partner (HANA 2.0, S/4HANA, Workflow, BI Platform, BW/4HANA, All-in-One)
Our Achievements
5 YEARS IN THE MARKET
4 GEO LOCATIONS
12 HAPPY CUSTOMERS
12 SAP IMPLEMENTATIONS
LOTS OF CUSTOM SAP FIORI APPS
16 SAP EXPERTS ON BOARD
Our SAP Certified Products and Qualified Solution
We are young, talented and successful! For 5 years of operating in the market, we have developed and successfully implemented 4 own products, a lot of custom SAP FIORI apps, 12 SAP long-term end-to-end projects.
Skybuffer has been developing its own products line known as YCA1 SIMPLE COMMUNICATION ADD-ON that is utilized in the workflow and document management processes with such kind of SAP systems as SAP ECC, SAP S/4HANA, SAP Solution Manager (ITSM). Simple Communication Add-on can also be delivered as DEVELOPMENT FRAMEWORK that is used by our Clients as a development foundation for smart (automatic) communication with SAP system (Human-to-SAP and SAP-to-Human interfaces). We are happy to announce that Skybuffer Simple Communication Add-On (version 3.1) is officially certified by SAP for the ERP system and is now ready for Solman 7.2
Skybuffer consulting solutions on Travel Expenses and Financial Reporting is certified by SAP as SAP Qualified Partner-Packaged Solution. It is based on standard SAP Fiori MTE application that works for SAP ECC and S/4HANA implementations and is integrated with Google Cloud Platform to provide embed data quality services to validate addresses and enrich with geo-codes using Google APIs
All our products and services are already in use with 12 customers and enjoy an excellent reputation and their positive feedback as they simplify S/4HANA or SAP ECC implementation processes and greatly cut operational costs.
Our "All Inclusive" Managed SAP Hosting
Skybuffer also specializes in hosting and cloud services for SAP applications based on Hetzner Online datacenter infrastructure in Germany and is working as an exclusive partner of Velcom datacenter in Belarus.
For over 5 years we have been successfully running SAP applications on IaaS basis.
Our SAP Services
Our team of experts are always online and available for you, ready to provide you with:
Business consulting – communications with customer and preparing technical requirements for teams
Functional consulting – adjustment SAP systems according to business requirements
ABAP expertise – development and integration; problem analysis and escalation to SAP (if required)
Basis expertise – technical level of SAP applications (NetWeaver, S/4HANA) and database level (HANA and SQL)
Core infrastructure expertise – hardware, hosting providers, technical architecture of solution and integration
Our Value Proposition Summary
Simple solutions, smart services, cost-optimal hosting.
Let's not make SAP complicated!