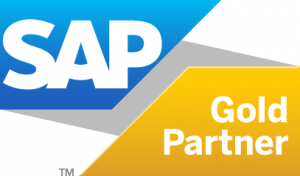 SAP PE Build Partner
(SAP Add-Ons and Applications Development)
SAP PE Service Partner
(S/4HANA, All-in-One, Business Intelligence, Cloud for Customer, Database and Technologies including SAP HANA)
SAP PE Sell Partner
(S/4HANA, All-in-One, Business Intelligence, Database and Technologies including SAP HANA)
SAP Partner Center of Expertise
(S/4HANA, All-in-One, Database and Technologies including SAP HANA)
INTELLIGENT DECISION DIMENSIONS
BRING SAP INTELLIGENT ACTIONS TO THE EDGE. WHERE THE USER IS.
INTELLIGENT DECISION DIMENSIONS
is Skybuffer Add-on officially certified by SAP Integration and Certification Center.
We have integrated all our Intelligent Enterprise related development into our solid Cloud-enabled product that makes it possible to engage business users in the new way and create disruptive business models .
Overview
Many companies sometimes appear unable to take full advantage of the capacity of SAP Business Workflow and Data Management, as business users have to login to the SAP system to capture decisions, or to simply check the status of any SAP document (e.g. order, invoice, etc). The Skybuffer solution empowers you with a bi-direction interaction with the SAP system via the asynchronous email channel, or ad-hoc chats with virtual assistance (chat bot). The implemented authentication security model allows you to control the access to SAP data and check business users' authorization.
The overall product comprises two major components
Maintenance Costs
Pay as you go
Volume Discount
Implementation Assistance
Prototyping Assistance
Unlimited usage of action cards
Unified Inbound Email Processor
Org. Structure Integration
Rapid Implementation Kit
Conversational Actions
AI into SAP Integration
Multiple Channels Support
Client's Cabinet
OVERALL INTELLIGENCE

€9,999 year (+ monthly usage)

9,999 EUR per year
0.075 EUR per chat session
Yes
Yes
Yes
Yes
Yes
Yes
Yes
Yes
Yes
Yes
Yes

Cloud Intelligence

€0.075 per chat session

Zero Cent Maintenance
0.075 EUR per chat session
Yes
Yes
Yes
-
-
-
Yes
Yes
Yes
Yes
Yes

On Prem Intelligence

€9,999 year

9,999 EUR per year
-
-
Yes
Yes
Yes
Yes
Yes
Yes
-
-
-
Yes
FINANCIAL AND ECOLOGICAL MONITORING OF TRAVEL EXPENSES AND REPORTING SOLUTION
/SKYBFR/RTE2 ECO EXPENSES – SAP Qualified Partner-Packaged Skybuffer solution which is based on SAP Travel and Expense functionality.
Our socially and environmentally responsible solution analyzes business trips KPIs in SAP environment thus adjusting business costs and revenues.
RTE2 with additional dimensions for specific reporting controls travel expenses per business unit, mileage covered per trip, CO2 Emission per vehicle type/employee/subsidiary, etc.
Upgraded SAP Fiori interface allows mobile data inputting.
Google Cloud Platform integration collects credible data for ecological management system audit and contributes to the company' sustainability.
APPLICATION ONLY

€4,999 / per company code

Installation Guide
Implementation Guide
Per Company Code Licensing Model
-
-
Maintenance Support (from the first day) *

FIXED PRICE

€14,999 / per company code

Installation Guide
Implementation Guide
Per Company Code Licensing Model
Fixed Price Installation Services (included)
Fixed Price Implementation Services (included)
Maintenance Support (after Go Live) *
SKYBUFFER SUPPORT SERVICE PACKAGES
Solution Brief
Our service packages are built on top of IaaS model (infrastructure as a service) provided by Hetzner Online and AWS. We are extending these models, adding SAP-specific support, so that you could simply use your applications without any necessity to go deep inside technical operations. We have know-how to run SAP with these infrastructure providers and this makes it possible for us to deliver service in packaged models with fixed prices.
How does this work? You rent instances and backup space from a service provider (either AWS or Hetzner Online) on your own and let our team have access to it. We, on our part, undertake responsibility for all technical support activities (SAP BASIS and system administration level), including backup and system update (up to 2 times per year).
ISO 9001:2015 / 27001:2013 CERTIFICATION
At Skybuffer we care a lot about the quality of our delivery, productivity of our team and, for sure, security and cyber security provided when working with out Clients' data in our Clients' IT systems.
To take quality and security to an all-time high level, in 2017 three Skybuffer locations (Belarus, Poland and Norway) were certified by TÜV THÜRINGEN and got ISO 9001:2015 and ISO 27001:2013 certificates.
In all the projects the Skybuffer team strictly adhere to the documentation procedures contained in ISO 9001 certification and consider ISO 27001 requirements working with Clients' test, quality and production data.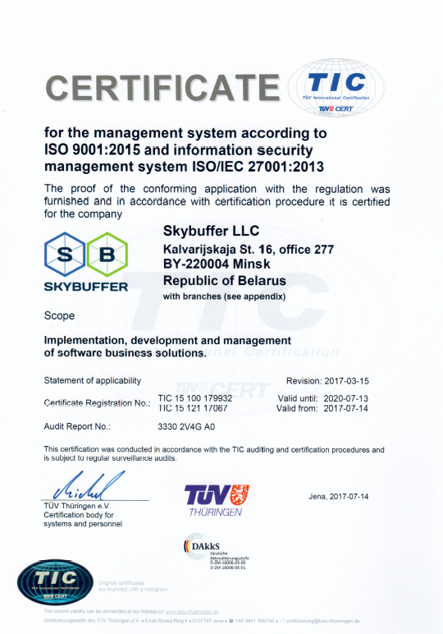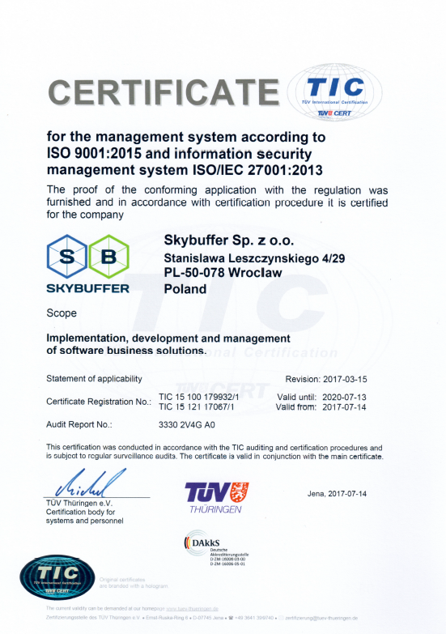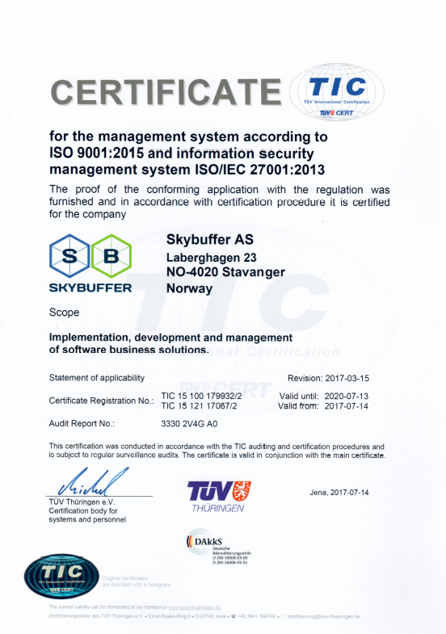 CONTACT US
Let us know your SAP challenges and we will get back to you with a simple, fast and smart solution approach!