Like to implement your solutions effectively, in time and on budget?
Thinking how to avoid disruptions to your business?
Plan to rapidly leverage software innovations?
Skybuffer Enterprise Support of SAP Environment includes implementation, support and IT systems development – we help to implement, operate, and innovate better!
Our Key Benefits:
Support begins with day 1. Implement better with guidance from Skybuffer, leverage end-to-end support infrastructure, and lifecycle management
Run SAP like a factory. Operate better through improved supportability, performance, reduced TCO, and  better collaboration with SAP
Do what you do best, even better! Innovate better and quickly meet business requirements for continuous growth and increased competitive advantage!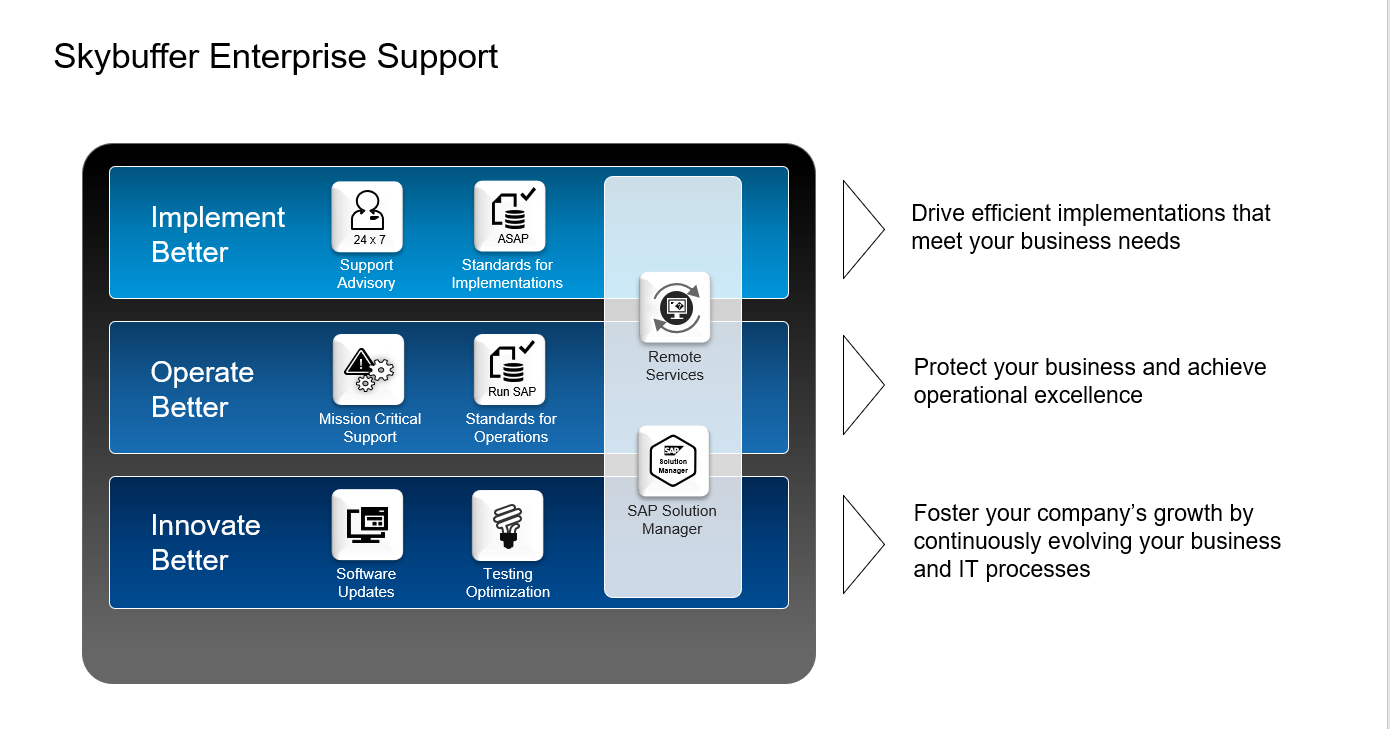 Implement Better
Get ready for your project, move on with the help of experts and have a successful go-live!
Implementation Know-How and Tools
ASAP supports cost-effective and speedy implementations
SAP Solution Manager helps in documenting processes and preparing for smooth operations including proactive monitoring and root-cause analysis
Technical Quality Checks and Tools
Standardized risk evaluation
Analysis and verification of sizing and system configuration
Avoidance of unnecessary modifications
Operate Better
Efficiently manage your SAP solution, enhance stability and process performance, save time and money for future innovation!
Operations Know-How and Tools
Run SAP optimizes the ongoing management of end-to-end solution operations
SAP Solution Manager provides end-to-end application lifecycle management ensuring stable operations and enabling accelerated innovation
Technical Quality Checks
Business process analysis and monitoring
System performance improvements
Security improvements
Data volume management
Innovate Better
Find what's new, install innovations, activate and use them!
Business Function Prediction
Find the enhancement package functionality that is right for your landscape
Identification of relevant innovations based on actual system usage data
Technical Quality Checks
Business process change analyzer (included in SAP Solution Manager)
Specific technical quality checks for installation, upgrade, downtime, etc. available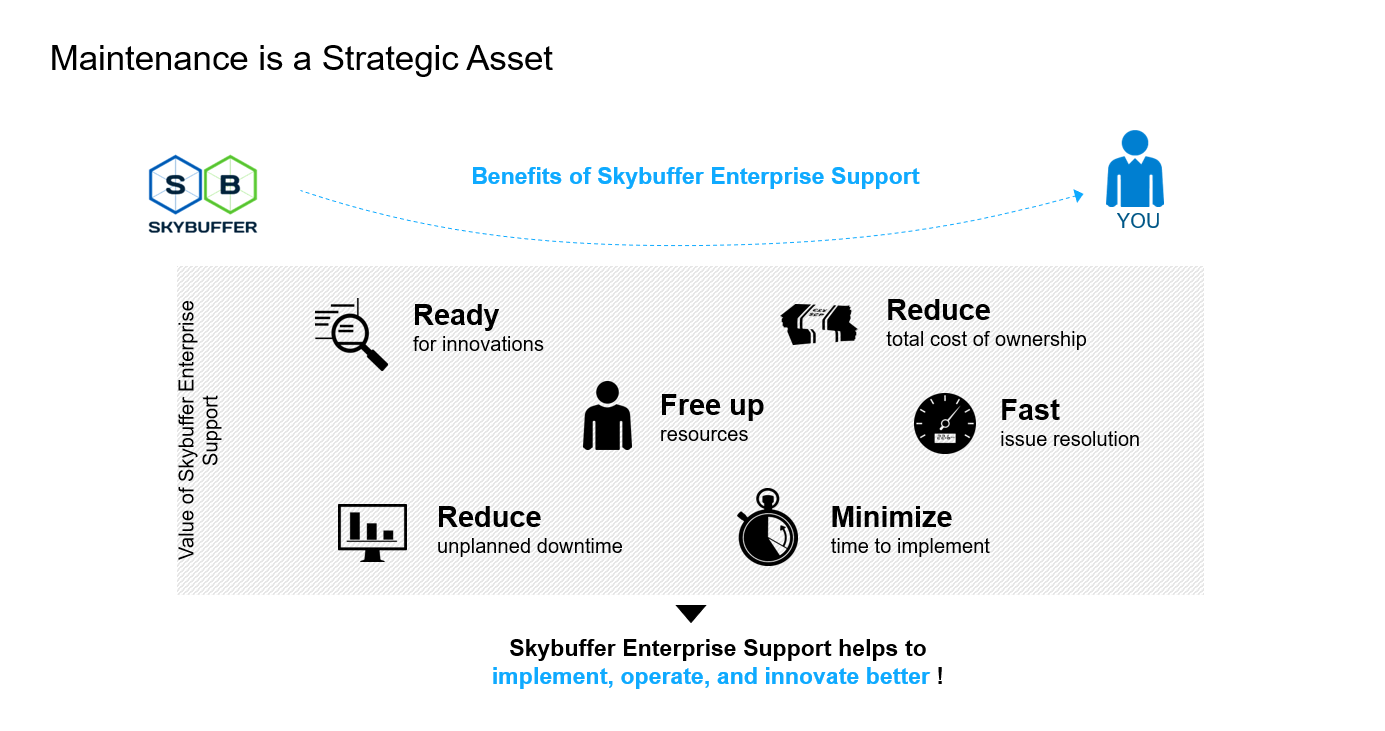 Skybuffer Enterprise Support Services in More Detail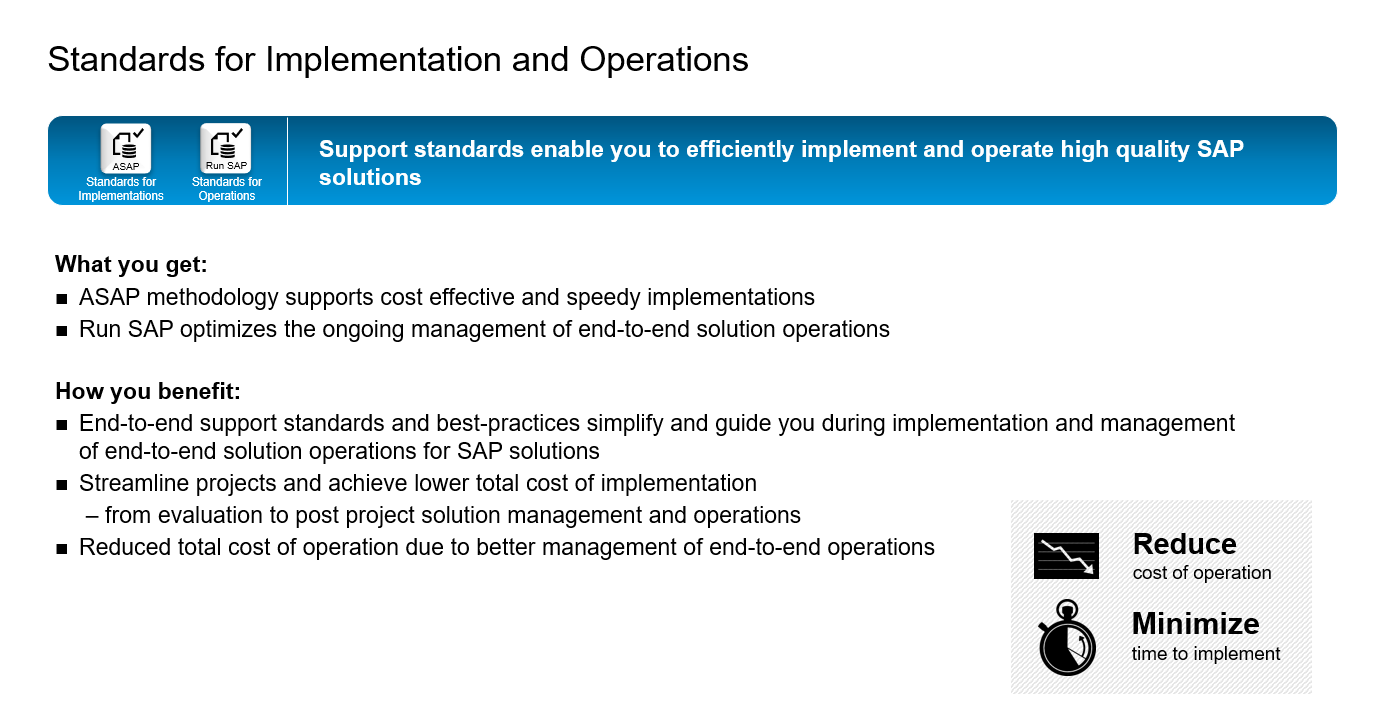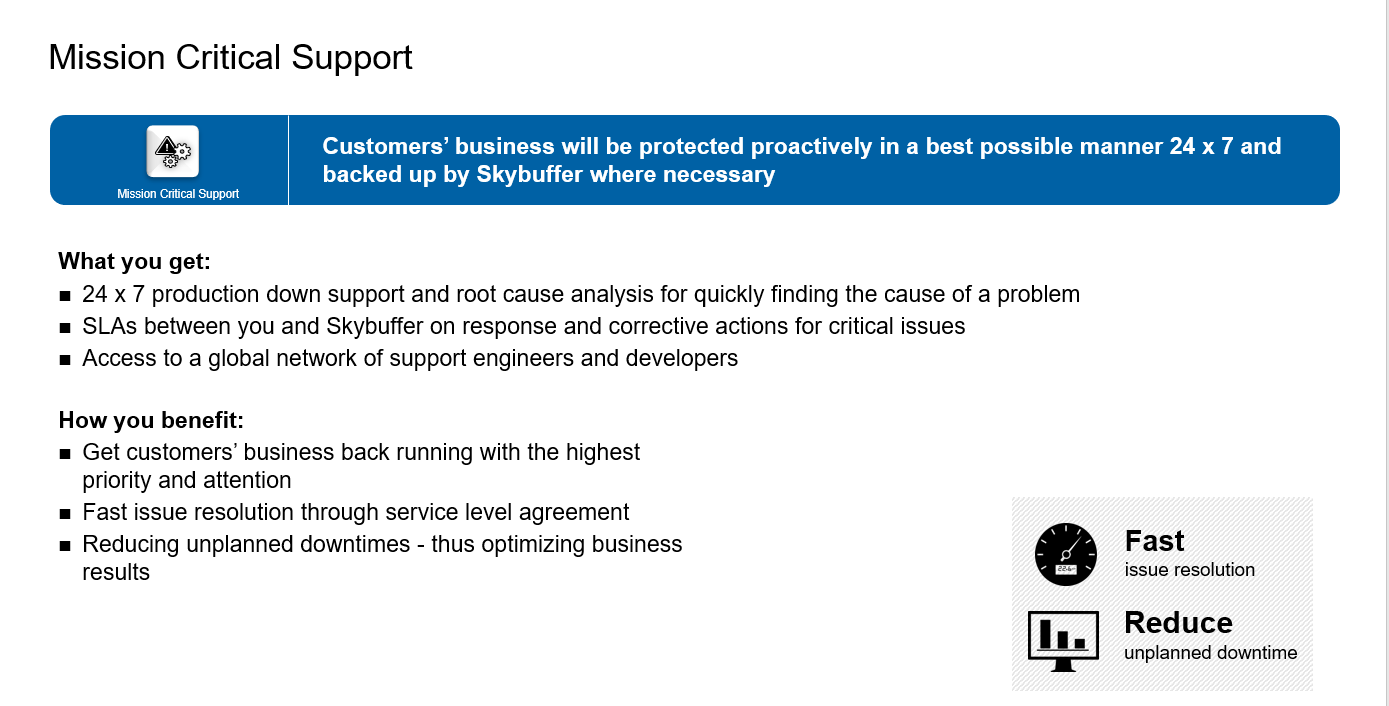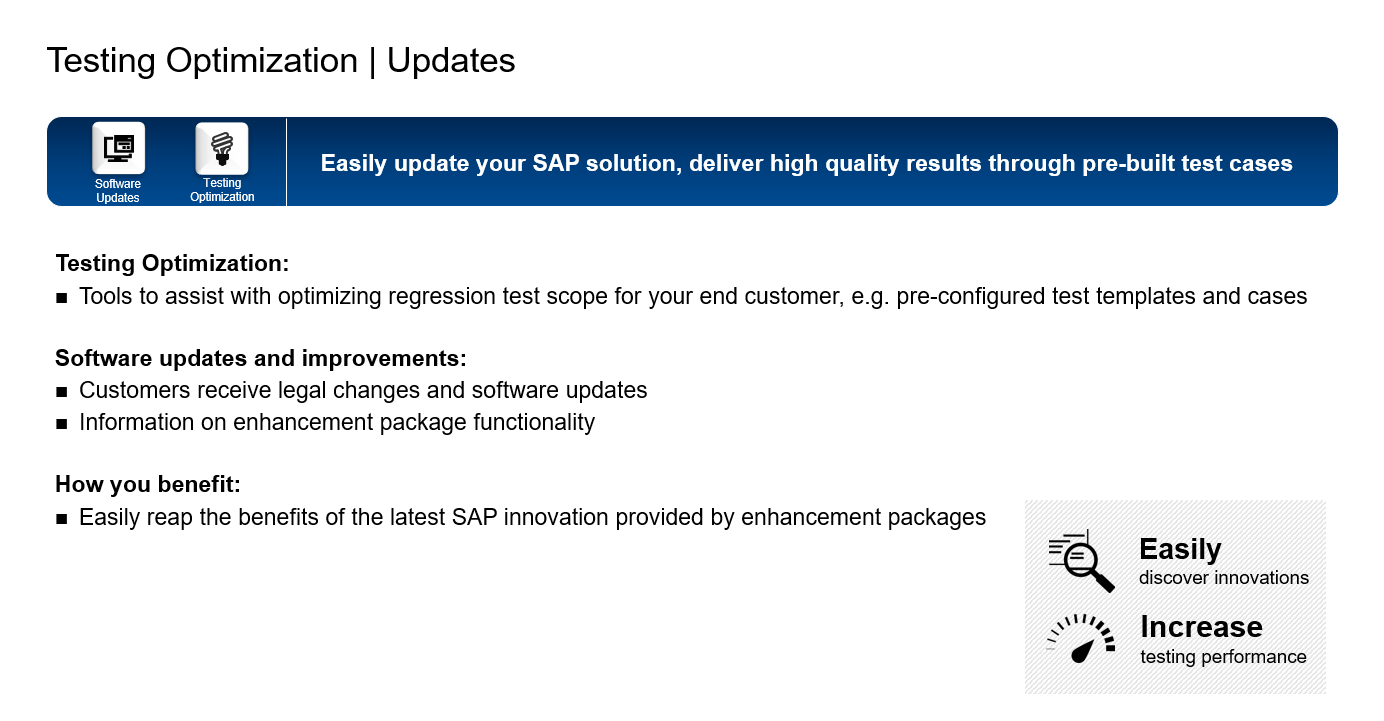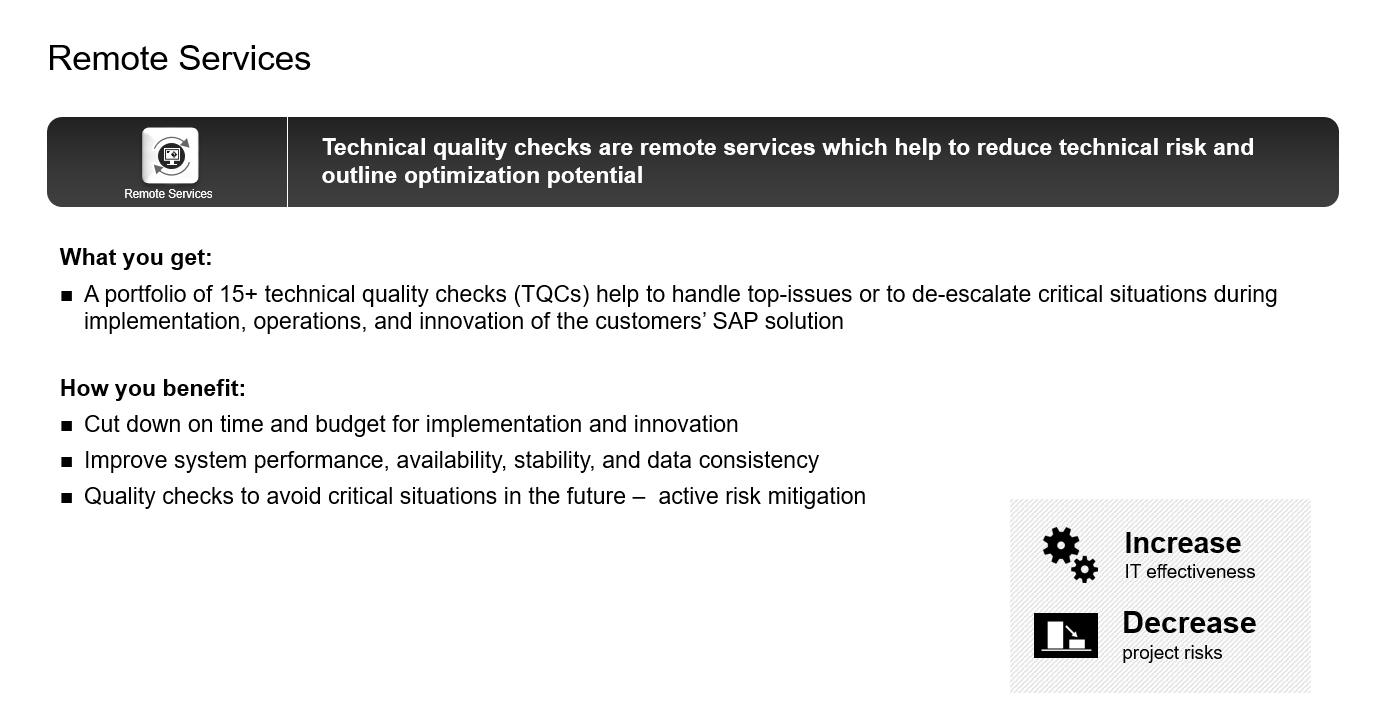 Solution Manager
It is the application lifecycle management platform that provides integrated content, tools, and methodologies.
What you get:
Central documentation of processes, system landscape, custom code, and partner applications including an integrated service desk and root-cause analysis
Central monitoring and alerting infrastructure and change control management
How you benefit:
SAP Enterprise Support allows SAP Solution Manager usage for full application lifecycle management of the customer solution
Reduced risk and lowered TCO through standardized and  integrated application lifecycle management according to IT Infrastructure Library (ITIL)