ENTERPRISE-LEVEL HYBRID CHATS.
Skybuffer-developed product line known as Intelligent Decision Dimensions (IDD) is a comprehensive system to cognitively automate your business
IDD offered as Multitenant SAP PMC Cloud
Hybrid Chats
€
200
Monthly per Operator
Ability to plug any SAP CAI chatbot in fewer than 10 minutes

Chats automatic categorization

Real-time operator connection in the fallback channel together with the chatbot

Support teams management (contact center organizational structure and authorization for conversations in predefined categories and channels)

Online and email notifications

Web Intelligence based analytics (including Analysis for MS Excel)

And many other handsome features
Open-Source Out-of-the-Box AI Content. Start Your Digital Customer Care Center in Just 11 Minutes
capture new users' contact data in order to tackle them further
authenticate authorized users in and outside the corporate network
connect to human support when necessary within working hours
Registering Support Tickets
if there are no operators online
unlimited number of navigation and consultation skills
support of 100+ languages without additional training
industry-specific extended content available on additional request
Integration into Your ITSM
on customer's specific demand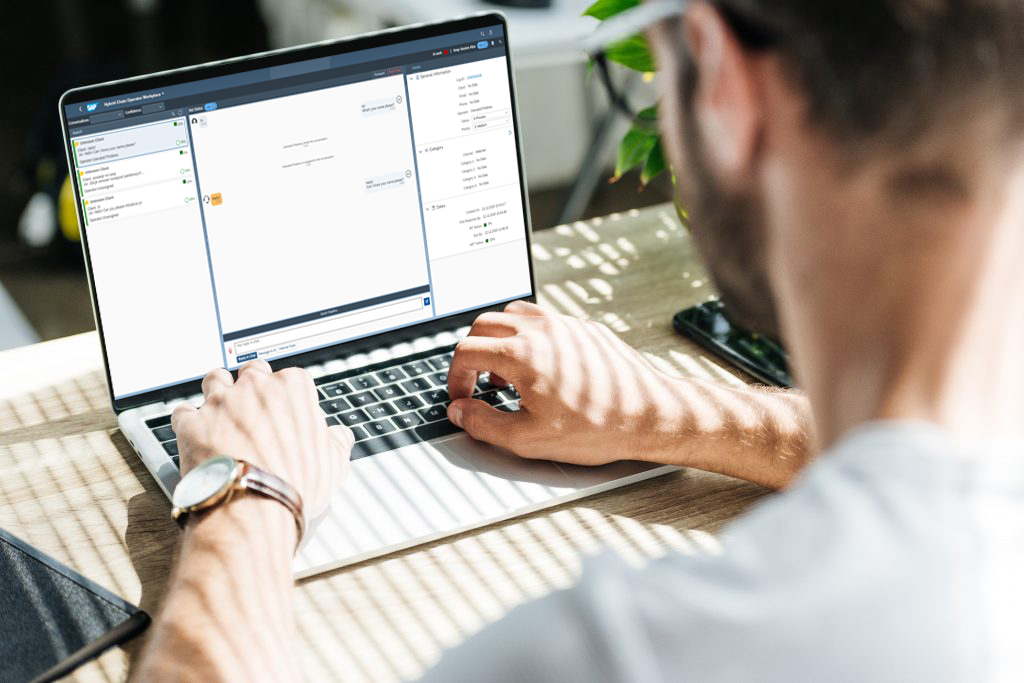 Conversational Actions Core-Embedded AI Content
IDD Multitenant PMC Main benefits
UNIQUE Platform WITH NO-CODE AI DEVELOPMENT
SAP Conversational AI is the only platform created by developers for business, which completely removes the barrier between the system users and the implementation team. Having world-class technology NLP, it allows quick and efficient creating of multilingual AI prototypes of the enterprise level.
SKYBUFFER-DEVELOPED ENTERPRISE-LEVEL AI CONTENT MADE PUBLIC FOR SAP COMMUNITY
We moved our Foundation AI Content (the key part of the solution) and all the thoroughly developed AI methodology to an open-source domain and aim at uniting SAP partners, clients and development teams round it and enabling them to develop low-risk, cost-efficient, enterprise-ready chatbots for all the LoBs.
Multilingual chatbot development content based on both translation APIs and vocabulary of the chatbot's replies
Object-oriented skills development methodology ensuring easy scalability of the chatbots you develop
Conversation-driven content development making chatbot's behavior smart and closer to the expectations of the customers, especially in B2C scenarios
Operator workplaces (as part of Hybrid Chats Cloud offering from Skybuffer, that is by nature multitenant SAP Partner Managed Cloud, means SAP software family in any case).
Automatic categorization of all conversations up to 4 levels of hierarchy
Categorization-based authentication to route conversations to agents in a more efficient and secure way
Business analytics of conversations contributing to getting more insights for new skills development and understanding gaps in the content that can be covered by appropriate training.
Quick Start and Low Total Cost of Ownership
Quick start for SAP ERP due to availability of ready-to-be-used AI content and integrational ABAP classes. Low and transparent total cost of ownership
EASY CHATS​
When to use? Prototypes, Pilots, Proofs of Concept

What is covered for SAP digital core?
15 business scenarios from different lines of business. Integration into unlimited number of SAP systems

What is covered for non-SAP digital core?
15 business scenarios. Integration is excluded

Medium AI Skills Request Priority

Rapid Implementation ABAP Kit

Implementation Assistance
TELL ME MORE​
When to use?

Small Productive Implementations

What is covered for SAP digital core?
30 business scenarios from different lines of business. Integration into unlimited number of SAP systems

What is covered for non-SAP digital core?
30 business scenarios. Integration is excluded

High AI Skills Request Priority

Rapid Implementation ABAP Kit

Implementation Assistance
OVER AND ABOVE
When to use?

Enterprise Level Productive Implementations

What is covered for SAP digital core?
Unlimited business scenarios from different lines of business. Integration into unlimited number of SAP systems

What is covered for non-SAP digital core?


Unlimited

business scenarios. Integration is excluded

Urgent AI Skills Request Priority

Rapid Implementation ABAP Kit

Implementation Assistance
Driving technology for leading brands